We are delighted to host a screening of Montreal experimental films on 16mm, presented by Ben R. Taylor (Montreal/Adelaide), artist, creative director of VISIONS and co-director of la lumière collective in Montréal. See below for program notes.
When: Saturday 1st April
Time: Doors open at 7.30pm show starts 8pm
Tickets: $15 on the door (reserve your place on Eventbrite)
https://www.eventbrite.com.au/e/expmtl-16mm-work-from-montreal-tickets-565830974677
The EXPMTL 16mm tour program is visiting AFW shores in Melbourne, Canberra's Hair Antic's micro-cinema, and  Brisbane's The Elizabeth Picture Theatre as well as Adelaide's Flinders University and Mercury CX in February, March and April. Be a part of history and reserve your seat at the Workshop For Potential Cinema's screening.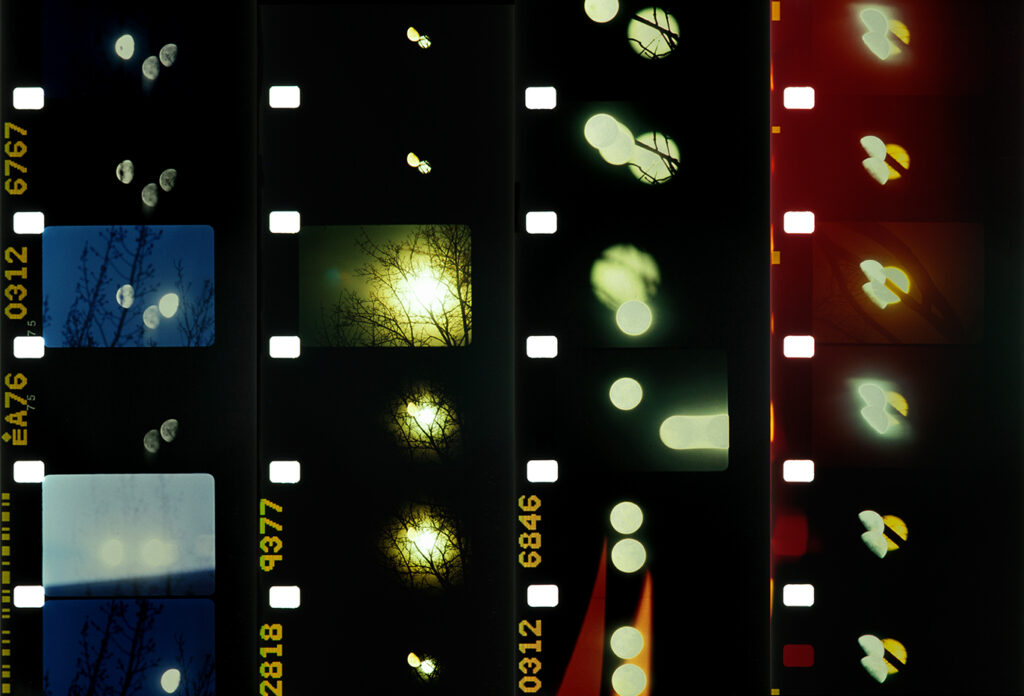 Lunar-Almanac, Malena-Szlam, 16mm, 2013
The Program
Traces – Erin Weisgerber (2014, 5mins, b&w, digital sound, 16mm)
Trace –
1 – a) A visible mark, such as a footprint, made or left by the passage of a person, animal, or thing.
b) Evidence or an indication of the former presence or existence of something; a vestige.
2 – A barely perceivable indication.
Kick That Habit Man! – Francois Miron (1989, 3mins, colour, sound, 16mm)
The phrase "kick that habit man", which is also a poem by Brion Gysin, is re-arranged in every possible order in this clever blend of sound, image, and optical printing. – CFMDC.
All That Rises – Daïchi Saïto (2007, 7mins, colour, sound, 16mm)
Juxtaposition of seeing and sounding, sky and stone and all that's in between. A short walk in an alleyway, to hear vision sounding images, blessed with light and darkness. – CFMDC.
Microform – Émilie Serri (2010, 6mins, colour, sound, 16mm)
The quotidian object as macrocosm. – Émilie Serri.
Just Words – Louise Bourque (1991, 10mins, colour, sound, 16mm)
Using as its text Samuel Beckett's NOT I, this shocking gift incorporates optically printed home movie footage and an eerily slick close-up of actress Patricia MacGeachy as she rants at lightning speed Beckett's words about home, family and the confines and alienation associated with being a woman. – Madcat Film Festival.
A Film About A Man Of A Certain Age – Benjamin R. Taylor (2023, 6mins, b&w, live sound, 16mm)
Man and machine find synchronicity. A thread is weaved from one side to the other. Holding each other tight.
Lunar Almanac – Malena Szlam (2013, 4mins, colour, silent, 16mm)
Lunar Almanac initiates a journey through magnetic spheres with its staccato layering of single-frame, long exposures of a multiplied moon. Shot in 16mm Ektachrome and hand processed, the film's artisanal touches are imbued with nocturnal mystery. – Andréa Picard.
Plein air étude – Richard Kerr (1991, 6mins, colour, silent, 16mm)
An ecstatic, kinetic formal study of light, colour, and movement shot in the region of the Montreal River which so inspired members of the Group of Seven. – CFMDC.
H2T – Charles-André Coderre (2014, 6mins, colour, digital sound, 16mm)
Shot on several types of film (16 mm and Super 8 format), ranging from handmade film emulsion to expired films, H2T takes place in the mighty Hotel2Tango Montreal recording studio. Filming of the recording session of Land of Kush during the making of their latest album, The Big Mango (2013), the picture is just as ephemeral as the musicians' movements. H2T reflects on the performative aspect specific to experimental film and musical performance. – CFMDC.
Didre Novo – Steven Woloshen (1983, 2mins, colour, sound, 16mm)
Juju African Sacred music provides the trip through the handmade graphic jungle of hand lettering.
Total runtime: 57 minutes
More info about Ben and Visions here:
http://benjaminrtaylor.com http://visionsmtl.com
VISIONS is a monthly screening series presenting non-fiction cinema and artists' moving image. Curated by Benjamin R. Taylor in Montreal since 2014. We exhibit non-fiction cinema and artists' moving image at local venues and festivals including la Cinémathèque québécoise, la lumière collective, Cinéma public, RIDM, FNC, POP Montréal and Cinéma moderne. Presentations are dedicated to a single artist. Artists are always present. Original formats are projected.

By night, la lumière collective is a microcinema exhibiting film, video & expanded cinema by local and international artists. We are one of the only venues in Montréal presenting 16mm, 35mm and expanded cinema. Every event features an artist in person and is followed by a Q&A and audience discussion. By day la lumière collective is an artists' studio and residency space with production resources for working on various moving-image media. The collective is run by local artists and curators who believe in creating cinema and cinema spaces on a human scale. We facilitate events in order to bring people together. We create connections to expand and enliven cinema.